Gemma Bessey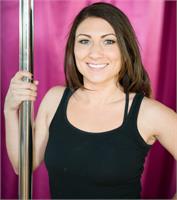 Avid poler since 2010. From exotic floor work to gravity defying tricks and elegant combos, Gemma's fun friendly and interactive style make her a favorite with students and teachers alike.
Gemma Bessey instructs the following:



Pole 1 Series drop in available for VIP members




Building upon what was learned in of what is learned in Intro to Pole, in Pole 1, students will learn to climb the pole, learn more advanced spins, holds, choreography and floor work.

Cost $150 for 6 week Series




Instructor permission required. Learn more complicated moves, smooth out transitions, and improve strength. Must be able to invert easily on your own, and have instructor permission

Cost: $150 for 6 week Series

Refund/Cancellation Policies

Requests for transferring to other days and times must be received a minimum of 48 hours notice before the start of your series, no exceptions. $15 change fee will be assessed.

Make-up policy - Up to 2 class make up allowed, all make ups expire at the end of the series. Make ups are not guaranteed and are subject to availability, cannot be reserved online in advance.